Shadetree Engineering & Accuracy has been dedicated to the accuracy shooting community for over 20 years. Butch Lambert started Shadetree EA after having tested the shooting fads that come and go he developed Shadetree shooting tops. Finding that higher tolerances and quality machining led to tighter groups he wanted to share his product with the world.
Shadetree shooting rests have helped many bench rest & F-Class shooters improve their groups and separate themselves from their competition and you can too.
About Butch Lambert
Owner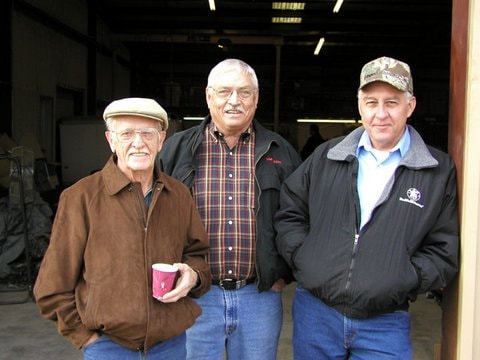 Left to Right: Ed Shilen(Bench Rest Hall of Fame), Butch Lambert & David Christman(American
Custom Gunmakers Guild)
I started Benchrest shooting at a later age in 1990. Seeley Masker, the gunsmith guru at that time, built my first 2 rifles. I did what a lot of folks did at the time, bought the latest thing that I could afford. I did spend a lot of money looking for the right solution, and I tested all of the latest things and tried them.

Money doesn't buy success though.

After buying or building at least 25 Benchrest rifles, I discovered that my first rifle- with a new barrel- was as good as my present top of the line rifle. This led to searching for a better way to improve my groups, leading to a drive to perfect a better rest itself, for any rifle. My main interest in production is quality- both of the mechanical part and the machining process.

I have a few small group trophies from the Nationals, placed at the Super Shoot, and won a yardage at the Cactus. I have a few trophies in the closet from over the years.
---
Featured on: Accurateshooter.com