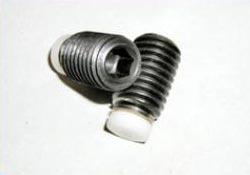 If your "Farley" rest doesn't feel as precise as you think it should or doesn't hold it's position, replace the tension screw buttons with our tension screws. These replacement tension screws are fitted with a "Delrin" pad supported by a pair of "Belleville" washers.
These replacement screws will give a much better feel to the action of the rest.
Threads are .625-11 (5/8-11). Price is for a pair (two) of tension screws which will update one "Farley" rest.
*International Shipping – We appreciate our international customers, but as shipping varies these shipping costs will be estimated case by case.